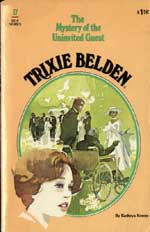 'Almost shyly, Hallie asked, "Do you ever wonder who you are?"
"Yes. You, too?" Trixie asked softly.
"Do you sometimes feel like you're standing with a cold wind blowing? You shout into the wind, but your words get pushed back down your throat. you know you'll keep swallowing your own words till you can answer the question, 'Who am I?' But there's no one to tell you the answer."
Hallie sounded so lost and lonely that Trixie's eyes misted. "I don't know much about mountaintops," she said. "I have the feeling that I'm in a glass box. All the people in the world march past me, but I can't join them because of the glass. I know that when I can tell just one person who I am, the glass will melt and I can join the parade. It's hard being a teen-ager, isn't it?"
"I'll bet you want to be a detective because you want to keep the parade marching safely," Hallie guessed quietly.
"Do you think so? Brian and Mart say it's because I'm so nosy."
"My mom would call you a truth seeker," Hallie said. "My mom has the smarts, so I go along with her most of the time. At home, Cap and Knut treat me like one of the fellows. I was getting so mixed-up, Mom said I needed some close contact with another girl. I thought of you, Trixie, so that's why I came."
"Really?" Trixie gulped. "I'm sorry I was so rough on you."'
The Mystery of the Uninvited Guest
(p. 184-185)
Read an article I wrote on this book:
The Mystery of Trixie:
Investigating the Mystery of the Uninvited Guest
Title :
Trixie Belden and the Mystery of the Uninvited Guest
Author :
Kathryn Kenny
The ghost writer of this book is Gladys Baker Bond.
First Published :
1962
Chapter Titles :
1. The Suitcase Mix-Up
2. What Did Bobby See?
3. Off-Key Whistle
4. Where's Di's Invitation?
5. A Disturbing Phone Call
6. Scooped
7. Ashes From a Bonfire
8. Bare Cupboards
9. The Ring
10. The Footprint
11. A Frog Hunter
12. Teed's and Wheels
13. The Truth Seeker
14. A Wedding and a Wheelchair

Setting :
Sleepyside, New York.
Synopsis :
The Bob-Whites are preparing for the wedding of Juliana and Hans, and Trixie is not impressed by the arrival of a younger cousin, Hallie. With the appearance and disappearance of a wheelchair, food, furniture, bicycles and Juliana's engagement ring, Trixie finds herself with a mystery on her hands and the unwanted assistance of Hallie. Trixie's temper is sorely tested, and she tries to evaluate her own behaviour as she attempts to decipher the strange behaviour of her close friends and family.
Characters :
Trixie Belden
Jim Frayne - adopted son of the Wheeler's
Honey Wheeler - Trixie's best friend
Brian Belden - Trixie's eldest brother
Mart Belden - Trixie's "almost twin" brother
Diana Lynch - a Bob-White and neighbour
Dan Mangan - a Bob-White and Regan's nephew
Helen Belden - Trixie's mother
Peter Belden - Trixie's father
Bobby Belden - Trixie's six year old brother
Hallie Belden - Trixie's younger cousin
Miss Trask - Honey's governess
Celia Delanoy - the Wheeler's Maid
Regan - the Wheeler's Groom
Tom Delanoy - the Wheeler's chauffeur
Matthew Wheeler - Honey's father
Madeleine Wheeler - Honey's mother
Sergeant Molinson - head of the Sleepyside Police Force
Mrs Vanderpoel - A friendly Dutch woman who has been a long-time friend of the Belden's
Juliana Maarsden - Jim's cousin
Hans Vorwald - Juliana's Dutch fiancÚ.
Ella Kline - seamstress who lives at the Glen Road Inn.
Mrs Boyer - eccentric, millionairess who lives at the Glen Road Inn.
Villains :
Dick Ryks alias Kate Ryks alias Oliver Tolliver who is the leader of a gang of criminals that used to be part of Dan's New York gang.
Points of Interest:
The tone of this book is much different to previous books and Trixie takes a psychological journey through this book as she tries to work out who she is.
Hallie arrives on the 19th of July and the wedding is on the 6th of August. Dan goes missing on the 22nd of July and isn't found until the day of the wedding.
Trixie had know Hallie was coming a week before she arrived, but did not mention it to anyone as she was trying to deal with her feelings (p. 16).
It had been two years since Hallie and Trixie had last seen each other, and the book implies that Hallie made the last visit (p. 25).
'Trixie Belden faced the biggest mystery of all, the mystery of self - the enormously important question, who am I?' (p. 25)
'Each time she thought of walking down the aisle, Trixie shivered nervously' (p. 33). Is this a sign that she was not in a hurry to get married? Though she does consider what her own wedding would be like: 'She would wear her mother's dress in a simple and lovely home ceremony' (p. 109).
Trixie thinks that Hallie could be considered prettier than Di (p. 43), but Di doesn't seem threatened by her even though Dan responds instantly to Hallie when he didn't do the same to Di.
The book explains that the Lynches had re-hired Harrison and the children's nurses after finding it too difficult to run the large household without them (p. 50).
Bobby says "If I ever get a bike" (p. 53) but he had one in The Marshland Mystery.
Dan makes an effort to look nice for Hallie and Trixie notices it. Dan and Hallie dance and 'Trixie was not used to sharing the limelight, and she didn't quite know how to make room for a cousin in this fun time. She sensed that this was also true for Di and Honey' (p. 81). This seems strange, as with an extra girl, the Bob-Whites balance out. Trixie can see that Hallie cheers Dan up, but she doesn't acknowledge how good she could be for him or that he might be lonely and feel left out.
Mrs Vanderpoel made her wedding dress while she waited for her fiancÚ to return from France after World War One (p. 113).
Di's twin sisters were present at the shower and flower girls at the wedding, but they were not named.