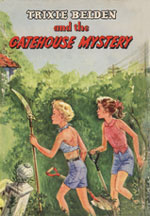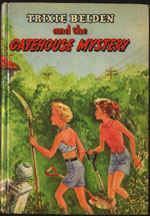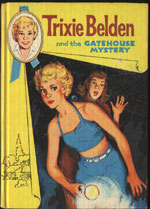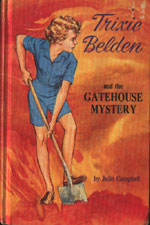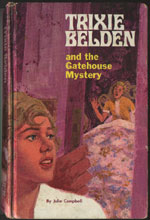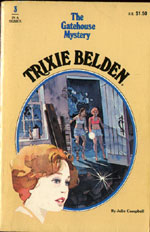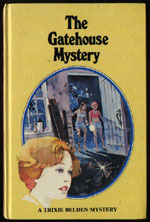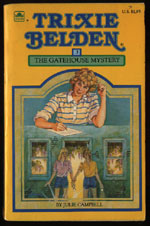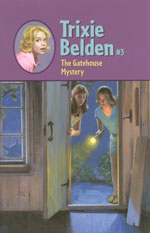 "I have so got an ambition," Trixie

told him with a toss of her head. "It's

all settled. Honey and I are going to

be private detectives; aren't we,

Honey?"

Jim hooted with laughter. "And call

your agency Schoolgirl Shamuses, Incorporated,

I suppose. I can just see

your business cards," he went on gaily.

"'When the FBI gives up, we take over,'

printed in red."

The Gatehouse Mystery
Title :
Trixie Belden and the Gatehouse Mystery
Author :
Julie Campbell
First Published :
1950
Chapter Titles :
1. A Discovery
2. An Eavesdropper
3. A Warning
4. Telltale Footprints
5. Bobby's Secrets
6. Midnight Prowler
7. A Black Eye
8. Lost: A Diamond
9. A Search
10. A House Party
11. Regan Has a Secret
12. Mr. Lytell's Observations
13. Bob-Whites of the Glen
14. "Leaflets Three"
15. Signatures
16. The Missing Box
17. Where is Jim?
18. A Dim Light
Setting :
Sleepyside, New York
Synopsis :
When Trixie, Honey and Bobby go exploring the old Gatehouse, Bobby stumbles and cuts his knee on a large diamond. Honey and Trixie decide to solve the mystery of the diamond themselves with the help of Jim and Trixie's brothers, Brian and Mart. They have two suspects, the Wheeler's new chauffeur and the gardener. Trixie's convinced she knows who the diamond thief is, but what will it take to convince the others and will she be able to save Jim from the thief?
Characters :
Trixie Belden
Jim Frayne - newly adopted son of the Wheeler's
Honey Wheeler - Trixie's best friend
Brian Belden - Trixie's eldest brother
Mart Belden - Trixie's "almost twin" brother
Mrs Belden - Trixie's mother
Peter Belden - Trixie's father
Bobby Belden - Trixie's six year old brother
Miss Trask - Honey's governess
Mr Lytell - owner of the village store
Celia - the Wheeler's Maid
Regan - the Wheeler's Groom
Tom Delanoy - friend of the Belden's
Helen - the Wheeler's Maid
Marjorie - the Wheeler's Maid
Nailor - the Wheeler's gardener
Dick - the Wheeler's chauffeur
Villains :
Dick - the Wheeler's chauffeur
Points of Interest:
Jim refers to Honey as his "step-sister".

We find out Honey's real name is "Madeleine G. Wheeler" and she was named after her mother.

Jim has a dog called "Patch", a new bike and Jupiter is now his horse; everything Honey promised him he would have in book #1 if he came to live with them.

The "Bob-Whites of the Glen" are formed in this book, the name coming from the bird whistle Jim taught Honey and Trixie and Glen Road, the road on which they live.